Simplify your marketing processes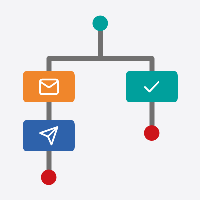 Imagine creating complex email campaigns just by dragging and dropping... Everything included: Target groups, triggers, time conditions and other requirements. This way you can easily combine different mailing types like birthday mailings, event mailings and follow-up mailings into one email marketing experience.
Sounds too good to be true? With our new "Workflows" feature, this dream will become a reality for you!
What's new about workflows?
Birthday mailings, welcome mailing series, follow-up mailings, target groups, trigger mailings, time conditions, ...- all this is old hat for you, because it's been possible for a long time with XPRO Inxmail Professional?
That's right! But the new thing about workflows is that you have these options bundled in one place: You can set them up and keep track of them in one central workflow.
So in terms of basic functions, it's the same as in XPRO, only much better:
Clear: Set up everything in one place intuitively and clearly via drag and drop

Customizable: Work with Inxmail templates or set up your own workflows

Intuitive: Enjoy the new Inxmail New  Xperience design and its optimized usability

Approval process: Approve your workflows and decide yourself when to activate them

Reports: View the dispatch details of workflows (running and completed) so you can evaluate them and learn for the future.
Learn more