Inxmail System Status:
Current Inxmail system and API status
Routine server maintenance
Please note: Inxmail performs client, server and infrastructure updates during regular maintenance slots. Maintenance slots are between 5:30 and 7:30 a.m. CET on Thursdays. Inxmail Professional will be unavailable for approximately 10 minutes during maintenance.
RSS feed for unscheduled downtime
We are constantly improving the performance and reliability of our systems. However, temporary restrictions outside of our maintenance slots may occur rarely.
Therefore, it is important for us to keep you informed.
The status page https://www.inxmail-status.de/ notifies you about temporary restrictions of our programs:
Inxmail New Xperience

Inxmail Professional

Inxmail Commerce
Subscribe to the RSS or Atom feed to be notified
You can access the link to the RSS or Atom feed at https://www.inxmail-status.de/ by clicking the "Subscribe to Updates" button at the top right.
Right-click "Atom Feed" or on "RSS Feed" and copy the URL.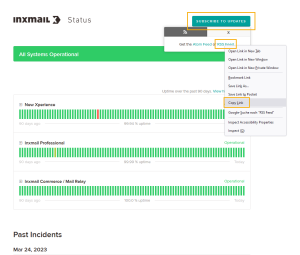 Stay informed on the go: Install an RSS or Atom feed reader on your smartphone to stay up to date on your mobile device. Search for "RSS Reader" in your app store and include the RSS feed according to the app manufacturer's instructions.
Below you will also find an example of how to set it up in Outlook.
Alternative option

If you have added RSS feeds in the past, you can also scroll down your regular email view and right-click on the "RSS Feeds" or "RSS Subscriptions" folder and then click "Add a New RSS Feed".

Enter the RSS feed https://www.inxmail-status.de/history.rss and click "Add".

Click "Yes" or "OK" to confirm that you want to add the RSS feed. Close any windows that might still be open.
You have added an RSS feed in Outlook.
The feed will be visible in the RSS Feeds or RSS Subscriptions folder.